Mori Art Museum 20th Anniversary Exhibition
WORLD CLASSROOM: Contemporary Art through School Subjects
2023.4.19 [Wed] – 9.24 [Sun]
Open every day
Since the 1990s, when the development of contemporary art began to be considered from multiple perspectives in different parts of the world, we have been seeing that contemporary art today goes far beyond the framework of arts and crafts and fine art in the school classroom. It is a composite field with connections to all subjects, including language and literature, mathematics, science, and social studies. In each of these disciplines, researchers are exploring the "unknowns" of the world, delving into history, and making new discoveries and inventions from the past to the future in order to enrich our perception of the world. The stance adopted by contemporary artists that seeks to go beyond our preconceptions in a creative way is also connected to this exploration of these unknowns. In this sense, the contemporary art museum is something akin to a "classroom of the world" where we can encounter and learn about these unknown worlds.
WORLD CLASSROOM: Contemporary Art through School Subjects, commemorating the 20th anniversary of the Mori Art Museum, is an attempt for us to encounter a world we have never seen or known from a wide variety of perspectives, using the subjects we learn at school as a gateway to contemporary art. Even though this exhibition is divided into such sections as "Language and Literature," "Social Studies," "Philosophy," "Mathematics," "Science," "Music," "Phys. Ed.," and "Transdisciplinary," each work, in fact, crosses over multiple subjects and domains. While over half of approximately 150 exhibited works will be drawn from the Mori Art Museum Collection for the first time ever, there will also be newly-commissioned artworks for this exhibition – altogether creating a "classroom of the world," place of learning with works by 54 artists/artist groups.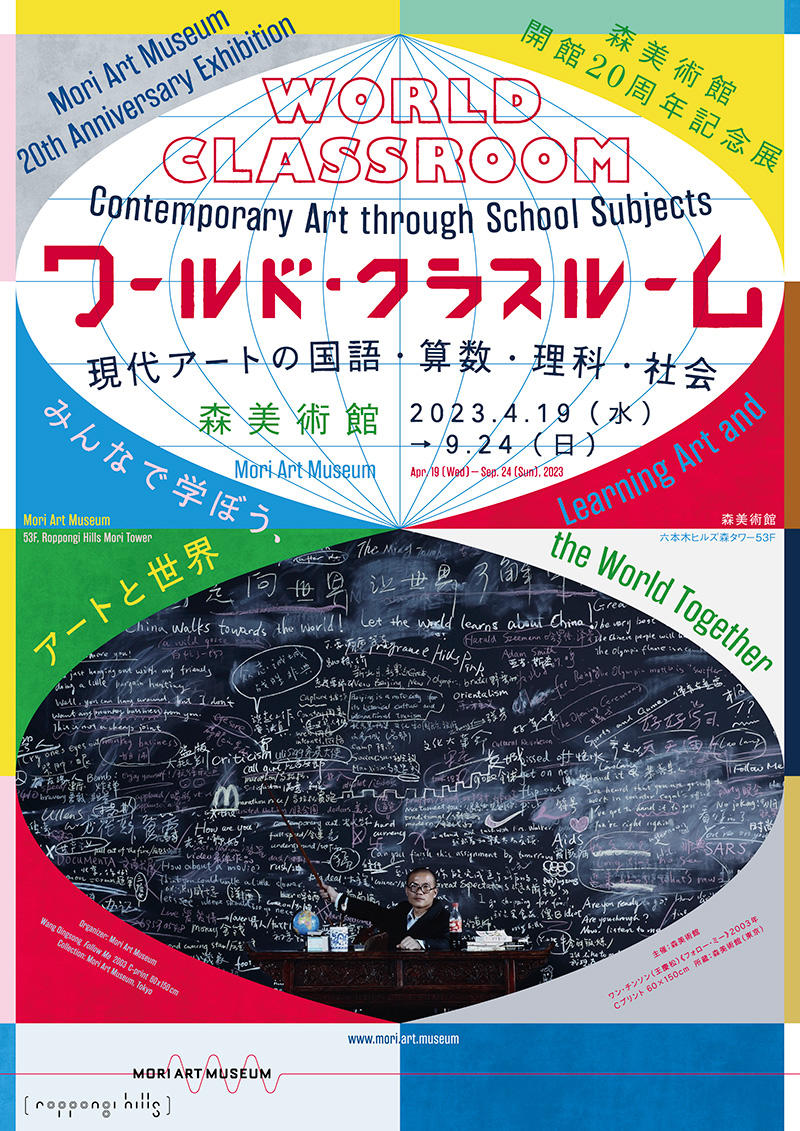 Curated by Jeffrey Rosen
Aug 25th – Sep 11th, 2022
Opening Reception:
Thursday, August 25th, 6-8pm
New Art Dealers Alliance (NADA) and NowHere are pleased to present Letters, Lights, Travels on the Street (Bokura ga tabi ni deru riyuu), a group exhibition curated by NADA co-president Jeffrey Ian Rosen (Misako & Rosen, Tokyo) that highlights a dynamic cross-section of the Japanese contemporary art world. The exhibition's title references the music of Kenji Ozawa, expressive of a generation's youthful days, and the show features a variety of artists, both emerging and established.
NADA and NowHere are proud champions of the Japanese art community. NowHere, an art space devoted to the support of Japanese artists living in New York, hosts this survey of the country's current artistic landscape. In the spirit of collaboration following NowHere's inaugural booth at NADA New York, the exhibition highlights the support that the New York based non-profit organization NADA has provided for this community.
The show features multimedia works from artists Ken Kagami, Nanami Hori, Motoyuki Daifu, Yu Nishimura & Kazuyuki Takezaki, Emi Mizukami, Yuhei Kobayashi, Maki Katayama, Shigeru Hasegawa, Ken Sasaki, Takuya Ikezaki, Michi Suwa, Minoru Yoshida and COBRA. Many displayed will highlight the cross-cultural and intergenerational partnerships NADA has created over the years:
4649 and XYZ Collective, two independent, artist-run spaces that have gained a foothold in the international art world through their participation in NADA's Miami art fair, exhibit new paintings by Emi Mizukami and Nanami Hori.
The collaborative paintings of Kazuyuki Takezaki and Yu Nishimura, represented by Misako & Rosen and Kayokoyuki, respectively, boasts a collaboration between artists and galleries which have developed friendships and partnerships within the context of NADA's fairs.
The psychedelic, boundary-exploring film work of Minoru Yoshida (1935-2010), a Kyoto-born New York transplant and Gutai Art Association participant, will be presented by Ulterior Gallery, a New York-based gallery committed to the exhibition of works by an array of intergenerational artists from diverse cultures and backgrounds.
The exhibition's opening reception will feature a talk by Ulterior Gallery owner Takako Tanabe. The closing reception will feature a performance by EUCADEMIX (Yuka C Honda), of the band Cibo Matto.
OngoingVillage—進行形の村In 越後妻有トリエンナーレ
会期:2022.7.30(土)〜9.25(日)
(定休日: 火.水)
会場:三省ハウス
(〒942-1402 新潟県十日町市松之山小谷327)
参加作家:
井上森人(そんたくず)
出津京子
うらあやか
池田涼
大木裕之
小川格
片山真妃
小山友也
鷺山啓輔
鈴木光
高石晃
田中義樹
地主麻衣子
二藤建人
東野哲史
村田峰紀
和田昌宏
阿部葉子
小川希
Dates: July 30 (Sat) – September 25 (Sun), 2022
(Closed: Tue. Wed)
Venue: Sansho House
(327 Kotani, Matsunoyama, Tokamachi-shi, Niigata 942-1402)
Participating artists:
Morito Inoue (Sonata Kuzu)
Kyoko Idetsu
Ayaka Ura
Ryo Ikeda
Hiroyuki Ohki
Itaru Ogawa
Maki Katayama
Yuya Koyama
Keisuke Sagiyama
Hikaru Suzuki
Akira Takaishi
Yoshiki Tanaka
Maiko Jinushi
Kento Nito
Tetsushi Higashino
Mineki Murata
Masahiro Wada
Yoko Abe
Nozomu Ogawa
Benefit Exhibition
2022.06.12 – 06.26
Thursday – Saturday 1pm – 6pm / Sunday 1pm – 5pm
at XYZ collective
Participants :
Miki Mochizuka , Reina Sugihara , Yui Yaegashi , Elza Sile , Gabriel Hartley , Trevor Shimizu , Koji Nakano , Maki Katayama , Yui Usui , Nanami Hori , Toru Otani , Futoshi Miyagi , COBRA , Akira Kuroki , Hikotaro Kanehira , MISAKO&ROSEN
Solo exhibition
05.29-06
花桃/ポップコーン
2022.5.29-2022.6.28
月-木 11:00-17:00
日 11:00-18:00
金.土.祝日 5/30.6/14.6/20休み
cooperation: xyzcollective 〒185-0012
東京都国分寺市本町 4-12-4 1F (103)

01.23.2022
My interview is published on im labor .
12.12.2021-01.23.2022
'Emotional Frequencies' at im labor
Artists_ Francesca Blomfield | フランチェスカ・ブロムフィールドMaki Katayama | 片山真妃
Opening hours_2021. 12.12 Sun. – 2022.1.23 Sun.2 pm -7 pm | Saturday and Sunday *The galley will be closed for winter holidays from 27 December, 2021 – 7 January, 2022.
*Please note that from this exhibition our opening days are now Saturdays and Sundays.
Special thanks_ XYZ collective
—————————————
'Emotional Frequencies'
Artists_ フランチェスカ・ブロムフィールド片山真妃
Opening hours_2021. 12.12 日. – 2022.1.23 日.2 pm -7pm | 土日 ※ 上記会期中の間2021年12月27日から2022年1月7日の間、冬季休廊とさせていただきます。
※今展示からim laborのオープン日が土日になりましたので、お気をつけください。
企画・協力_ XYZ collective
12.01-12.14.2021
この度、伊勢丹新宿店 本館6階 アートギャラリー にて、CADANから24ギャラリーが参加いたします「抽象 Abstraction by CADAN」を開催します。現代アーティストによる様々な"抽象"作品をお楽しみください。
伊勢丹新宿店 本館6階 アートギャラリー
2021年12月1日(水) ~ 2021年12月14日(火)
最終日午後6時終了
営業時間:こちらをご参照ください
白川昌生(Maki Fine Arts)
Hartmut Landauer (Gallery 38)
加賀美健(Misako &Rosen)
鈴木健二(Sprout Curation)
石川順惠 (Blum & Poe)
川内理香子 (WAITINGROOM)
東島毅 (rin art assocciation)
北田朋子(東京画廊)
中島麦(Gallery OUT of PLACE)
高橋大輔(ANOMALY)
John Zurier (The CLUB)
チェン・ルオビン (タグチファインアート)
ルイ・カーヌ (ヤマキ・ファインアーツ)
安田悠(Yuka Tsuruno)
額賀宣彦(HAGIWARA PROJECTS)
宮坂直樹(FINCH ARTS)
坂本和也(nichido contemporary art)
五月女哲平 ( 青山 l 目黒)
Eric Zetterquist (imura art gallery)
松崎友哉 (Yutaka Kikutake Gallery)
篠田太郎(Misa Shin Gallery)
菅木志雄(小山登美夫ギャラリー)
片山真妃(XYZcollective)
ジャンフランコ・ザッペティーニ (Standing Pine)
中村一美 (Blum & Poe)
07.25 – 08.22.2021
Solo exhibition
"F3(a<b),P6(c<d),M12(e<f):b=c,d=e"
13:00 – 18:00 (Thur – Sat) , 13:00 – 17:00 (Sun)
2-13-4-B02 , Sugamo, Toshima-ku, Tokyo
2020.12.13-2021.01.17
2020.08.05-
New exhibition of drowings up @chicane.space